Differentiate between one piece and two piece Motorcycle suit
Differentiate between one piece and two piece Motorcycle suit
Anonymous said, "Never ride faster than your guardian angel can fly." That quote symbolizes the main focus of the argument went on. In this article, I am going to help the riders and racers in choosing the right suit for their local street races and champion racing. Maturity does not come from education it comes from experiences. And a good experience learns you a lot from both positive and negative perspectives. We daily see the number of losses in bike riders not because they are technically un-experienced or they don't know how to ride, or they ride just for the fun or they ride too fast but because of a lack of proper protecting purposes.
I am not against bike riding but for those who ride with craze and book appointments of the "Angel of Death" and vanish from the world and left their beloved ones alone. That is sad. Yet we all know every lived one has to taste death but why do we taste it un-occasionally.
We are humans having senses. I just want to carry good protection from the riding lovers while on the road or track. In this article, we have two protection measures by which a rider can protect it from sudden hard injuries, and with these measures, a rider can enjoy their riding with more happiness and more pleasure. When we talk about motorbike riding protection, we never forget about the leather suit, that's the most preferred protected material. Now let's see which suit is preferable for them.
One piece suit for Motorcycle Riders
A one-piece suit for motorcycle riders is the best option when you want to ride or race through traffic or the street. It provides complete protection to the whole body of the motorcycle rider from sudden flapping due to air resistance and gives strong durability and flexibility. It is the ideal option for the riders in case of protection measures. Most motorcyclists prefer a one-piece suit more on summer days than winter causes it is lighter in the material. The other thing that differentiates a one-piece suit from two pieces is its zipper connection which minimizes the risk of failures on the road or the racing track. On the other hand, we have another option and when we have an option in something it means the first thing has definitely some cons and therefore we have to make another option.
One piece suit has some disadvantages and these are given below:
Less comfortable in wearing
Less comfortable in removing
Difficult to find the perfect size
Too much narrow and tight to the body
Don't have the cooling ability like a 2-piece suit
Less versatile
Having fewer pockets for storing necessary short equipment or items
difficult to breathe
Two piece Motorbike Suit
There is no doubt in leather; both motorbike suits provide great protection to the riders. But it's the choice for the rider which suits it more and feels more comfortable. Eventually, most of the new riders or bike lovers do not know about the 2 piece racing suit. We can say that it is an open suite with a separate jacket and pants with a zip connection that makes it more flexible and comfortable.
I say this directly because, in the past, two-episode racing suits were almost identical to one-episode racing motorcycle suits with no contact zippers. But, until recent years, the coupling zipper was on the top of the jacket, which did not allow passengers to wear the jacket comfortably as a stand-alone option. This type overcomes one of the main advantages of a motorbike suit with two pieces in the original. Manufacturers have come to terms with this and now offer two-piece suits that allow you to use the jacket separately without showing off your midriff. I know this may sound strange, but hopefully, it was. The rider can easily wear and remove it anytime.
Two piece motorcycle gear are preferable while you ride on the tracks or you go racing in the streets. Another good thing about two piece racing clothing is that it gives perfect sizing which is difficult in the case of one piece gear. You can buy a jacket separately and likewise pants and wear the best ones according to your body structure and fitting. Two-piece racing suits look prettier and make them more stylish among the racers. Furthermore, two piece wear have more pockets for keeping items like wallets, keys, tissues, notes, mobiles, etc. As we know man-made thing is never ideal, there is always some cons to their creation or we can say its innovation.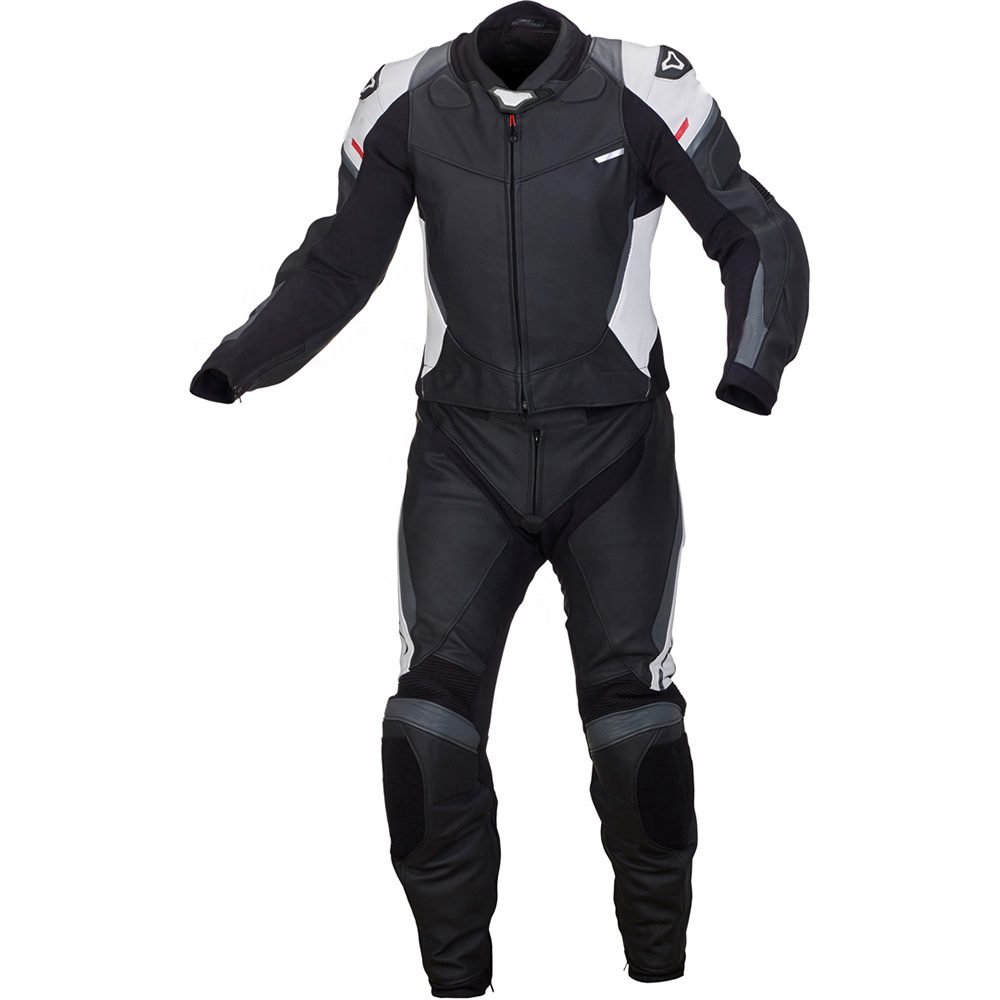 Let's put light on the cons of two piece leather suit:
It is a little bit more costly than two pieces but you have the option to buy it separately. For example, when you have the money you can buy a jacket on which your heart fell and after some days, by adding budget you can but pant at all. Unlike one piece leather clothing, two piece racing suit has a greater variety in choosing sizes and colors.
It is not too much perforated like one piece motorbike gear
Not good for sports riders
Not good if you are a REGULAR rider
Less safe than one piece suit
Why do I prefer one piece over two piece motorcycle suit?
Different riders have their views while choosing the right suit for their riding. Here we see the brief theory about 1 piece suit motorcycle and two piece motorcycle suits with their pros and cons. Both suits provide great protection abilities. Several reasons rider may decide to choose a one-piece suit over the other one. Of course, if you're professional area is a race, summer rides, track dates, and competitions; a one-piece suit might be the best option to choose from. Such activities may require that you donate a suit that will fit perfectly and protect you from any danger in the event of an accident.
The suit-piece suit seems to be suitable for racing gurus and those who want to make the most dangerous sports using their motorcycles. You need to be very careful when searching for a one-piece suit that will suit you. They do not interact with everyone even though most are covered. It should be able to fit you well and not diminish or overwhelm you. While some may view the solid nature of a single episode as a bad thing, others see it as a benefit as it is better to be safe than comfortable – they say. So if you fall under the above categories, it would be best to get a one-piece suit. This will help you achieve your goals and become a better rider.
I hope that article is going to help you to differentiate easily between the one piece suit and the two-piece suit. Again I want to remember the quote which I mentioned in the first line, "never go too fast that cuts your life from the earth". It is very NECESSARY TO adopt protective measures while doing anything.
Related Products
Related topic:
How to measure leather motorcycle suit
what size motorcycle suit do i need
How much does a MotoGP suit cost
How to clean racing motorcycle leather suits
Why wear leather motorcycle suits
How to Carry a Motorbike Suit on a Motorcycle
What are Motorcycle racing suits made of
 Why to Wear a Leather Motorcycle racing Suit
what to wear under motorcycle suit