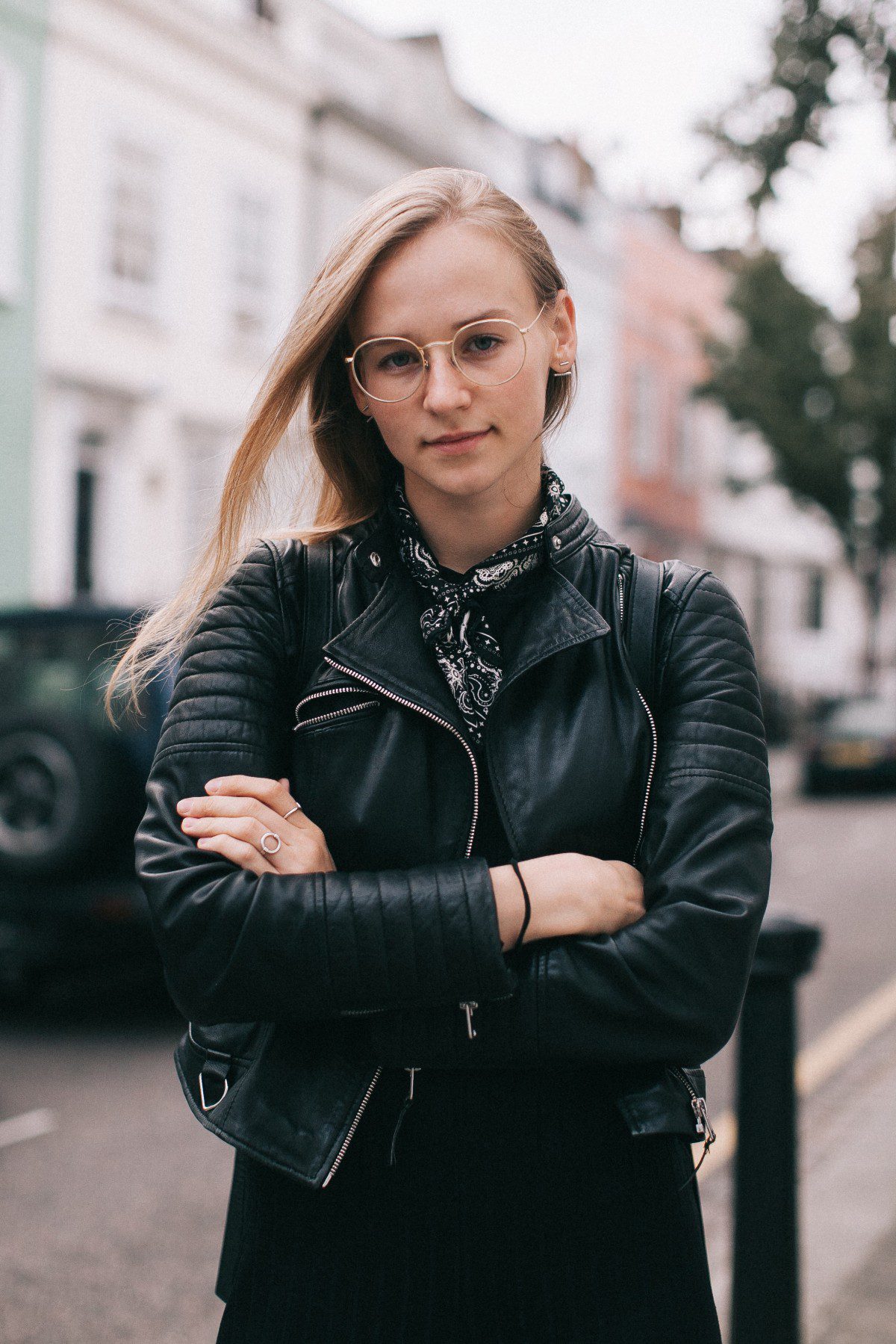 How to clean racing motorcycle leather suits
How to clean racing motorcycle leather suits
In this article we will teach you step by step clean racing motorcycle suits. Motorcycle leather racing suit is very expensive. So cleaning of motorbike leather suit is very important and necessary. As bike riding is a very dangerous game for the body. you need something for a body protector to protect your body. There are two types of motorbike suit 2 piece motorcycle suit and one piece motorbike suit both are used for riding. The only difference between them is that you have to wear seprate leather jacket in two piece racing suit . During bike riding, you may get injured and your body part can damage so to protect ourselves we need some leather suit that helps us during motorbike riding
To maintain and increase the life of the motorcycle racing suit we need to clean it. Clean full leather motorbike racing suits give you freshness, comfort, and protection during you wear it
When I should clean my one piece motorcycle suit?
Whether you use or not racing gear we recommend cleaning it twice a year moreover cleaning also depend upon usage and environment condition
There are three phases of cleaning leather motorcycle suit
To get a shiny and attractive look we have to follow these steps:
Cleaning the interior
Cleaning the exterior
Conditioning
Phase one: Cleaning the interior of your leather motorcycle suit
When you ride you got sweat wear the interior lining of your motorcycle gear oils, as well as salt from your skin, comes out. Depending upon how you ride and the type of ventilation due to this factor we need its cleanness. The vigor with which you will attack the inner jacket becomes dankness.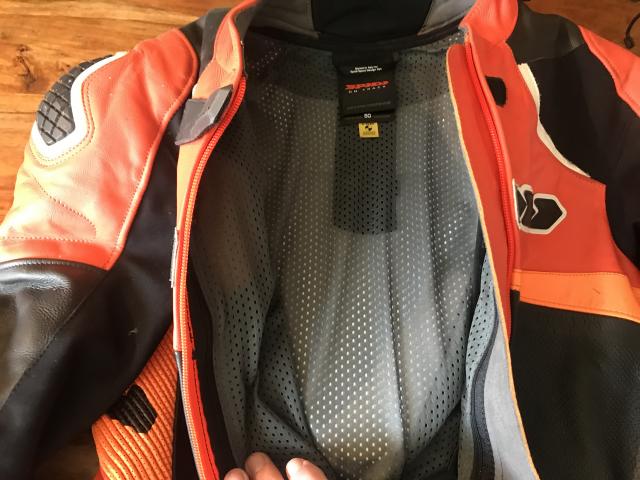 Step one: Is your interior removable?
If the interior is removable then it makes easiness for us. If the leather jacket or suit contains a removable interior then remove it and put it into the washing machine and skip the next step and jump to the exterior.
Step two: Air it out
If the liner or interior of your leather gear is not removable don't worry it's not a problem.  Mostly new leather motorcycle clothing comes with a sweat-wicking, anti-microbial liner, so usually, you can see a marked upgrading in the internal condition of your gear if you simply let it air out in the open environment. You can also take it one step forward to remove olfactory use Febreze or another air freshener.
Step three: Apply de-salter spray
When we use leather gear regularly then due to sweat funky smell comes out. So to remove this smell we use de-salter spray on leather gear. To perfectly clean leather one piece motorcycle riding suit or jacket inner with de-salt, remove all interior liner and turn the jacket inside out and apply on it with cotton. Make sure the jacket remains inside out unit de-salt dry completely.
Phase two: Cleaning the external of your leather motorcycle gear
Most modern leather jackets have stylish and strong exteriors. There are special materials and chemicals used to clean leather gear because water is not allowed. Here is a step-by-step guide on how to clean a leather one piece motorcycle suit.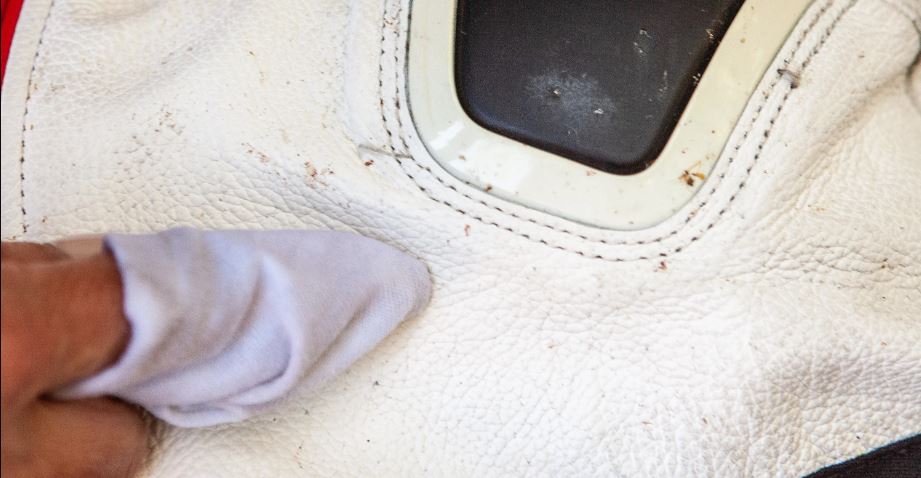 Step one: Find a best quality leather cleaner
It is an important thing to know which part of the full leather motorbike racing suit should be clean with a certain liquid because of different types of leather. It is normally good to avoid waxes and silicones. Moreover, you should not also use animal-based products such as milk, oil paste because such kinds of products discolor the leather.
Once you find your best leather gear cleaner then it's time to apply it to your gear. Generally, soft cotton is used to clean it.
Step two: Take rag and cleaner
Take a small piece of cotton which should be soft and dip it into the cleaner that you have selected for your gear. Apply the cleaner to all exterior parts of leather gear make sure to be gentle. There is no need to be hard power. You should treat it like a diamond. Start from the front side of the jacket then the arm and backside. Stop please if your rag got dirty please change its side
Step four: Let the jacket dry
Once you have applied cleaner to your suit then it's time to dry it. Hang your leather with help of a hanger and wait for it until it is completely dry. It will take to dry at least 24 hours
Phase three: Conditioning leather MotoGP suit
It is the last phase of cleaning the MotoGP suit when you have applied your cleaner then it is time you use some special oil to your leather clothing to make shiny.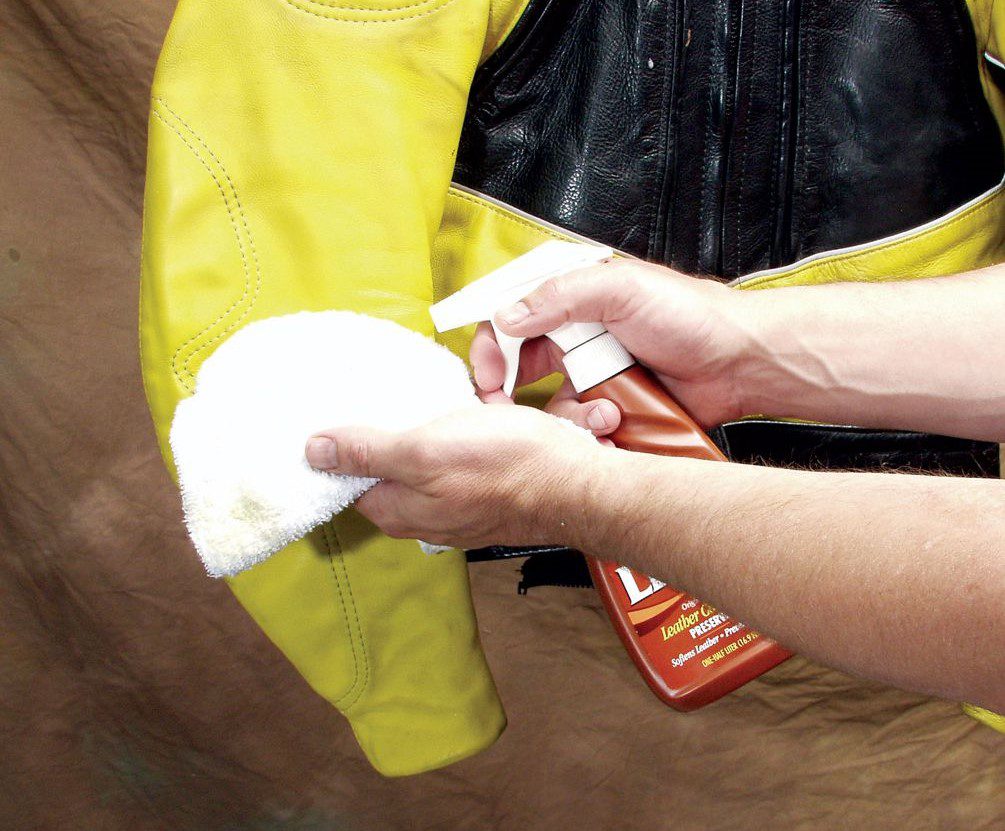 Step 1: Use leather conditioner to clean racing motorcycle suits
At the time of searching how to condition MotoGP suits, you will see a huge amount of conditioners in the market. Everyone has their qualities and specification. You have to choose one by analyzing its qualities and specification and you have to follow its instruction
Step 2: Dry leather MotoGP riding suit
When you use a liquid cleaner to clean a leather MotoGP suit you have to dry it to completely look good. Make sure that your jacket enjoys the full advantage of the important oils as they absorb and bring out the best in the leather.
Step 3: Never over-condition
The last step of cleaning a leather MotoGP racing suit is to remember not to do it too often. The reason is that too much oil in leather gear cause discoloration
The Dos and Don'ts for Leather products
You should always clean racing motorcycle suits it with soft cotton
Do regularly dry your sweat
Always clean racing motorcycle suits politely and gently
You shouldn't Clean your leather jacket too frequently
Never attempt to clean ink, makeup, oil, glue, or paint stains yourself. You'll need to use pro material.
Don't use club soda—it may make the color worse.
Don't forget to feather when you blot, or the stain will simply be changed by a watermark.
Never t use Bleach, Ammonia, and water
Related topic
How to measure leather motorcycle suit
what size motorcycle suit do i need
How much does a MotoGP suit cost
How should a motorcycle race suit fit
Related products