Are leather jackets in style 2021
Are leather jackets in style 2021
The leather bomber jacket was first manufactured to provide extreme warmth in very cold temperatures at high altitudes for US military pilots. It was introduced by the US military aviator clothing board during World War I. During the war, the US military pilots need to face many difficulties and the massive cold temperature was at the top list. As a result, to resolve this issue the leather jackets for men were introduced to the US military and soon began it was being manufactured by many local companies. It was as design to give extreme warmth to the pilots even at more than 25000 feet above.
In a very short time, the leather jacket was adopted from a battleground staple to a fashion staple and soon it becomes the fashion element. Most of the early influencers made them trendy outerwear. It is because there was no easy way to look tougher and more intimidating than wearing a leather jacket. As time passes the world made many changes to itself and just like that the leather jackets made many modifications in themselves also. The B3 bomber jacket and leather bomber jacket women were also previously designed with some modifications according to their needs.
As like in men's fashion this trend took place in women's fashion garments also. The women wore these items to look cool and tough. Now there is a question rise are they still in style?
Are leather jackets still in style?
The leather jacket has become an evergreen fashion from its early age of time. People adopted this outerwear very fastly either it was a classic biker model or a bomber design. We have taken the research of the history of fashion items starts to now and we find the leather jackets in every time stage as a fashion item. So, it can be said that
"The leather jackets are in style as it never goes untrendy and these are at the top list of favorite wardrobe items".
With the paste of time, you can see many changes in the jackets. These are further categories in different types which are B3 bomber jackets, biker jackets, suede jackets, café racer jackets, puffer jackets, and some others. These jackets are being worn in different places according to their preferences and places where to go. A wearer should wear them according to their personality and also like which suits him/her the most. These jackets can be worn on casual occasions, a routine college day, casual meetup with friends, a semi-formal meeting, and of course a casual party.
Why are leather jackets still in style
In the list of leather outfits, fam reason is its functionality and amazing appearance are at the top. This outerwear gives the wearer an extremely cool and thoughtful look. If you are thinking to be stylish and rugged so this outerwear is the best investment for you. This is not enough it also protects you from the cold winter winds as the leather itself is very warm. The jacket with original fur lining gives some extra warmth which is mostly used in the winter.
Leather jackets in Hollywood
For your better understanding, we have listed below some examples that we took from Hollywood actors. As in today's world, we know there is a big community that follows the actors and like to wear those items that celebrity wear.
Tom Cruise's top gun jacket
The Tom Cruise top gun jacket got very popular among the public when it was first worn by Tom Cruise in his top gun movie. Its popularity still didn't come down and this jacket again appears in another Tom Cruise movie Top Gun Maverick.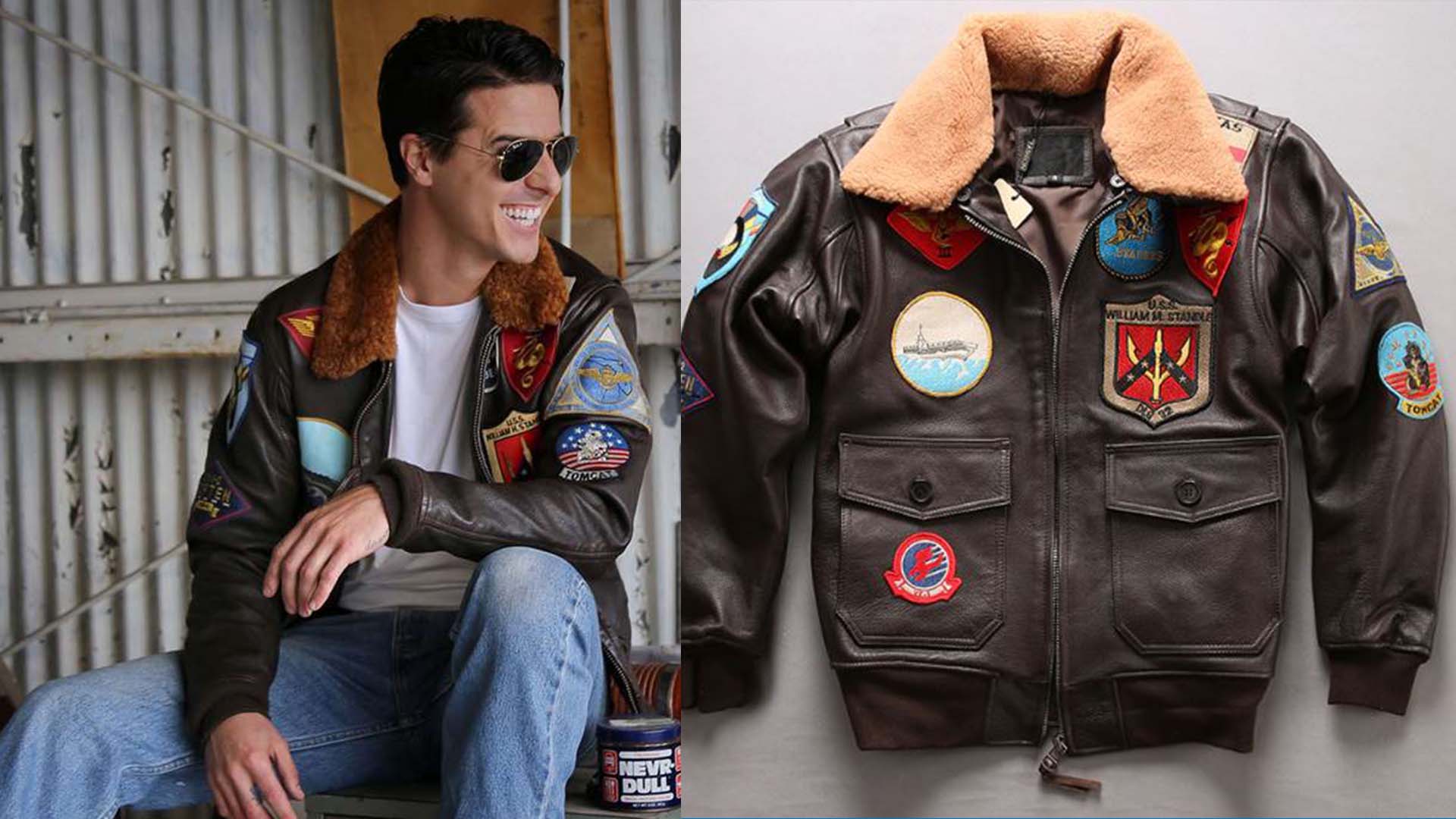 Bourne Legacy Jeremy Renner's Jacket
In the Bourne Legacy series 2012, Jeremy Renner wears a black leather fashion jacket. As a result, that jacket got too much demon and many people buy that kind of similar jackets and the person were bikers. The Bourne Legacy Jeremy Renner's Jacket has become the fashion iconic.
The Dark Knight Bane Coat
One of the people's most favorite villain characters Tom Hardy played the role of Bane and wore a coat in The Dark Knight movie by the extraordinary. This amazing B3 bomber long coat fit the Bane character as nicely as it should be. This coat can complete any fashioned wardrobe made of real and faux leather and different shades. After this movie, many people try this coat to follow Bane's tough looks in the dark knight.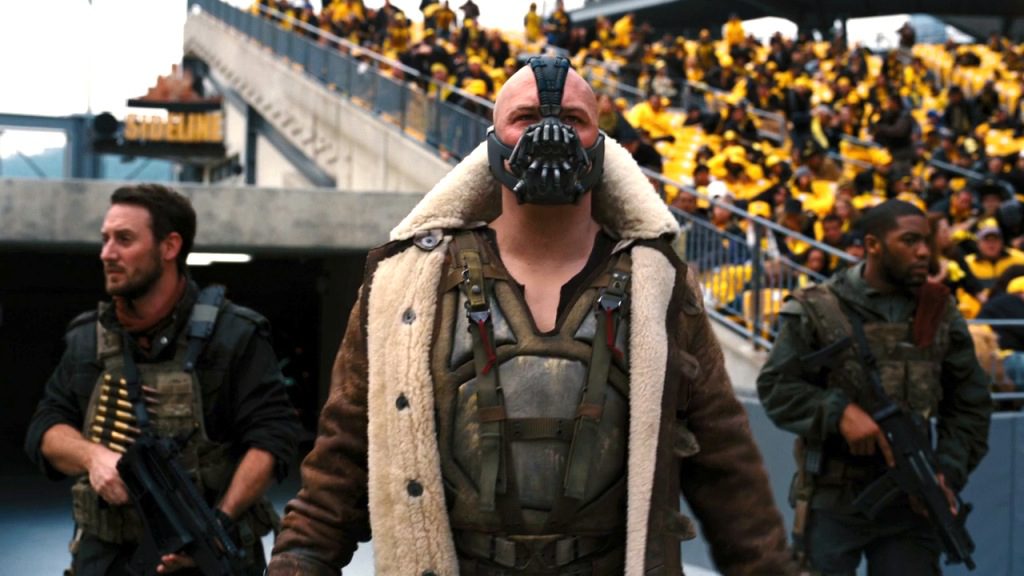 Leonardo DiCaprio Once Upon a Time in Hollywood Vintage Jacket
The well-known American actor Leonardo DiCaprio wore a Vintage Brown leather jacket in his comedy-drama movie Once Upon a Time in Hollywood. Leonardo DiCaprio looks perfect in his character with that stylish jacket.  The movie was released in 2019 and people's demands for that jacket going high from that day to now.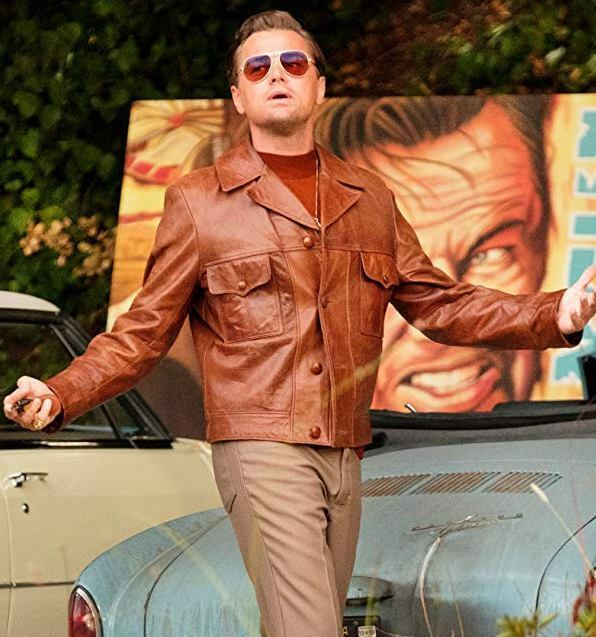 Emma Watson in black moto jacket
Emma Watson loves to wear leather outfits as she can be seen many times in the asymmetrical leather moto Jacket. She wears it at movie seen, photoshoots, and casual parties and also in daily life. Emma looks dam attractive and cool with that stylish outerwear. She became the big reason high demand for the leather jacket.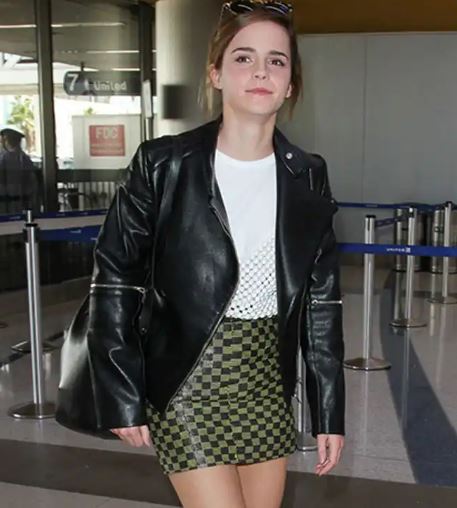 Michelle Rodriguez in a Leather Jacket in F9
Michelle Rodriguez, a very famous actress played a very vital role in The movie Fast and Furious 9. She wore a Black leather Jacket at its most popular bike seen. She perfectly adopts a biker look and does his job very nicely. This is not enough she can also see on social media in Burgundy Leather Jacket.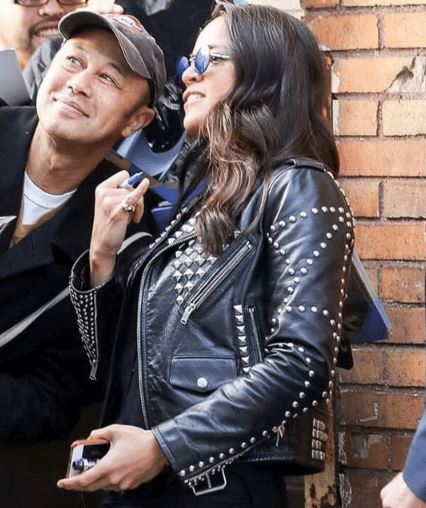 Kim Kardashian in Bike Jacket
Kardashian West got a very unique and tough look in her Enfants Riches Déprimés studded jacket in the Gene Simmons performance. It gave her a very tough edge like the '90s bike's look. This unique jacket soon gets trendy and began to wear by worldwide ladies.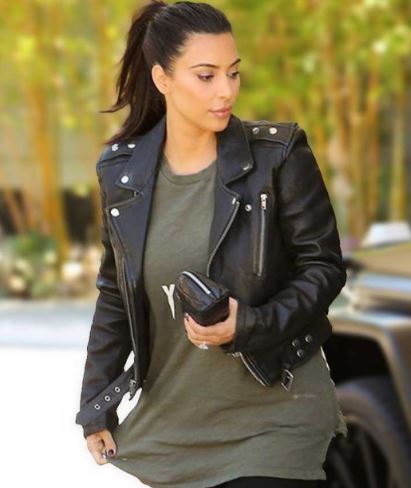 Related Post
How to style mens brown leather jacket
What A1 leather jacket made of