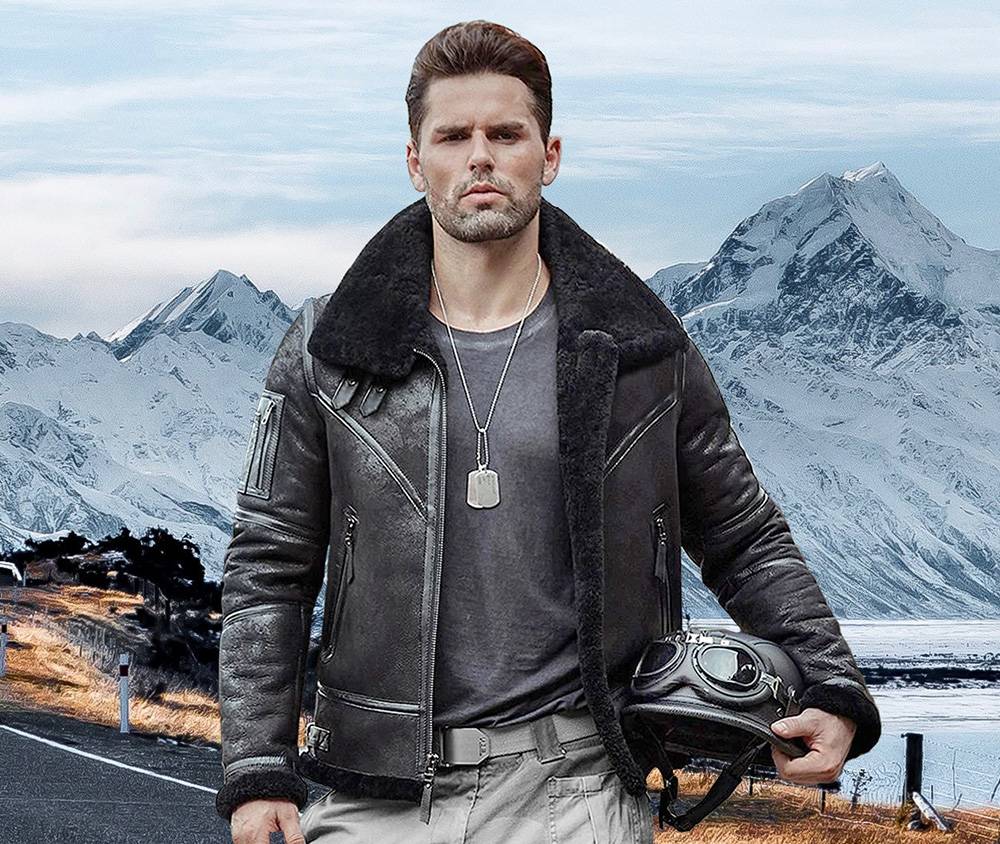 How warm is a B3 Bomber Jacket
How warm is a B3 Bomber Jacket
As we all know the original B3 Bomber Jacket was introduced in between world war I for the US military pilots. Those pilots had to face many difficulties in the high open air. The extremely cold weather was also included in the top problem list.  They needed apparel that should be durable and extremely warm to face and maintain their body temperature at very high altitudes. So, the US military aviation clothing board produce the bomber jacket. These jackets were manufactured for the pilots so, that's why it is also known as a flight or flying jacket. The men b3 bomber jacket is made of sheepskin and thick sheep wool lining which is very warm. There is a pair of leather straps with the collar to close it. The b3 bomber Jackets for ladies have short body length, fur collar, and fur on the sleeve's wristband.
How much warm it is
To find out how much a b3 bomber jacket warm is, you need to know the materials that are used to make a B3 shearling jacket. It is made of sheep Shearling leather that has been lined with sheep fur. The leather itself is a very popular clothing item to make us warm in the cold weather. It gives a very warm feeling in the cold winds.
The sheep's fur adds more value to the jacket as it is super warm. The shearling gives a very distinguished and stylish look. The combination of sheepskin and the shearling together makes an extremely warm jacket. As you can do the estimation this leather jacket for men was produced for the pilots to survive at the high altitudes (above 25000 feet). These jackets made those pilots warm in the high open air, so you can say that this is the warmest jacket in today's world.
Are the bomber jackets good for winter?
The sheep shearling on the B3 Bomber Jackets or any other leather Bomber jacket is a valued investment. This gives very nice durability and a timeless distinguished clothing feature that never goes out of fashion. The leather Bomber jackets are very cool and stylish in their looks. These are also trendy items in the winter season.  These are a good option for cold temperatures.
The leather B3 bomber jackets are enough warm that they can be worn at 20° F (-6° C). The average temperature of most of the U.S states is -3.0 ° C. The average temperature in New York is – 4.8 ° C in the winter season. These jackets are the perfect choice for the winter season. It not just protects us from the frizzing winds but also creates a massive stylish look to stay trendy.
If we talk about the Europe side so countries Denmark, Germany, Finland, Ukraine, Slovakia, Serbia, and some other countries have an average temperature below then 0.0° C in winter. This leather bomber jacket demand goes very high in the winter season in Europe and as well in the USA.
Due to the super warmth feature, these jackets are not mostly worn in the spring and fall seasons. But there are some countries like Russia, Canada Greenland and some others where mostly temperature doesn't go high even in the winter. So, these jackets take place throughout the year.
Which Bomber jackets are good for fall and spring
The bomber jacket is not just a single jacket some further categories of it with having different features. The bomber jacket that is made with nylon & polyester is a better good option to wear in the spring and fall season. Any leather bomber jacket can also be used in winter. The nylon fabric jackets give a very versatile look in the fall and spring seasons. You can wear a bomber jacket on your round-neck T-shirt with casual denim jeans. To complete the look, you can wear your sneaker or boots under your feet with these dressing. Let's have a quick look at which bomber jacket can be worn un the spring and fall seasons.
Ma 1 Bomber Jacket
The MA-1 was introduced by the US military air force for their use. The MA-1 Bomber jacket has a very high-quality fabric like nylon & polyester with interlining. The nylon fabric gives a very comfortable and lightweight feeling to the pilots. It not just gives flexibility but also fixes the need of staying warm.
This water-resistance nylon fabric changes the previous bomber jacket's model look. These jackets are now adopted by the local public in a very large amount. The MA-1 jacket model is a little bit thinner than previous leather models, which turns it to be a comfortable clothing item to wear at temperatures between 15°C to 21°C.
B15 Bomber Jacket
The B-15 is a classic flight bomber jacket which usually made of water repellent Dupont nylon. A synthetic mouton fur collar gives it a traditional bomber jacket look. In some jackets, there is also an option to remove that fur collar. This B-15 jacket is made for US military pilots. As time passes now these models are being used by the local public and these are in very high demand. These jackets are very commonly used in the spring and fall season in the USA & Europe countries. The B-15 can be worn up in temperatures between 15°C and 21°C.