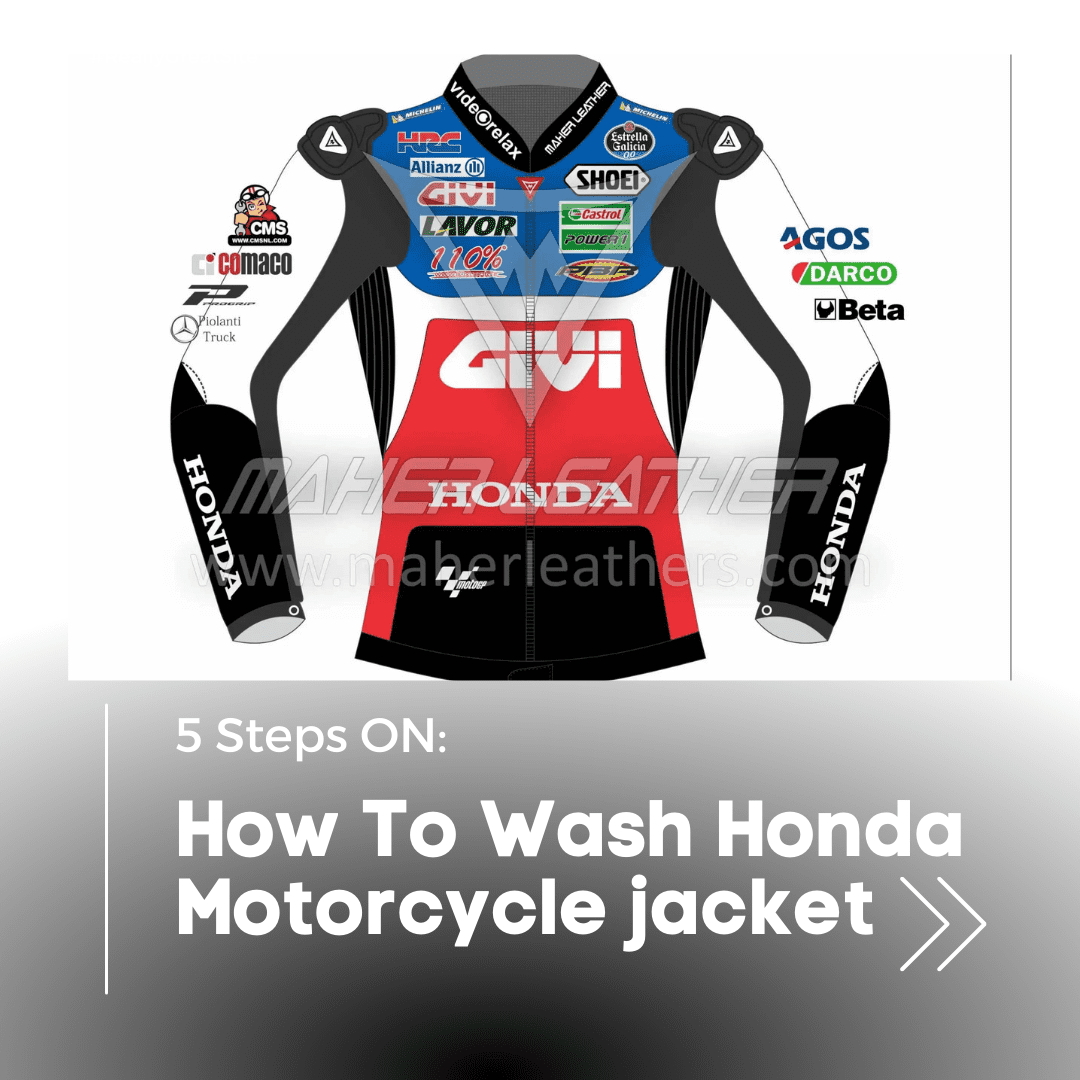 How to wash Honda Motorcycle Jacket- Step By Step Guide
In this particular blog post, I will guide you thoroughly about how can you wash your Brand new Honda Motorcycle jacket, so that it exists for a longer period.
As we know "soul is necessary for living", similarly "proper care and maintenance" is mandatory for the longevity of these expensive high-quality made leather motorcycle jackets. If you belong to the racing world or are a fan of racing you should be well-known for the Suzuki, Honda, and Ducati racing jackets and suits. There are many motorbike brands that are worn by Riders like KTM, YAMAHA, RED BULL, etc. These motorbike apparel are made of top-notch leathers like kangaroo, cowhide, sheepskin, and lambskin.
And all these types of leather are highly protected and durable that's why these racing apparels are very costly. So if you have any of one, you need to do its proper care and maintenance for its long existence. Otherwise, you will lose them and it is unrepairable. In this particular blog, I am going to teach you how you can wash a Honda Motorcycle jacket step by step. Cleaning is probably the same for all these motorcycle apparel. So don't worry if you have another MotoGP race suit instead of a Honda. Just follow the steps below, and clean out any Motorbike apparel.
Mandatory precautions to take before washing Motorbike Apparel
If you have any racing apparel rather it is Honda, Suzuki, Ducati, KTM, or Yamaha, cleaning all are almost the same. So just follow the steps and you will surely learn it.
First of all, check your Honda motorcycle jacket, if it has any dirt or debris on it, clean it with a soft piece of cloth.
Generally, all you need to do is to take a detergent, detergent is any liquid material like Ivory snow, Woolite, sponge, or fine brush.
Many people made a mistake, they use harsh materials for drying but it can damage your fabric, so avoid these materials like bleaching powder.
Also, you can check the instructions inside the label of your motorbike racing jacket. If you understand these instructions then simply follow them.
How to clean a Honda motorcycle jacket
Now it's time to wash your jacket as you have gathered the material I listed above and your jacket is too prepped.
First, fill a sink or tub with lukewarm water and add a small amount of mild detergent, following the instructions on the label or using about a tablespoon of detergent per gallon of water. Take a sink or bowl, drop warm water in it, and add your detergent. Gently shake the water so that detergent mixed in it completely. Then follow the instructions you found on your jacket inside the label or put a tablespoon of detergent per gallon of water.
Now put your motorbike apparel – a Honda leather racing jacket in the mixture and use a soft brush or sponge to scrub the leather gently. Give a bit more time to the areas of stains or dirt.
Remember while rubbing, don't rub it too hard as it can destroy your leather motorbike apparel.
Sometimes jackets have hard stains, you can remove them by simply adding vinegar or baking soda to the hot tub of water.
And then wash out thoroughly, and you will get your jacket out of stains surely.
Rinsing and Drying Of Honda Jacket
After the washing, the next is to rinse your jacket with clean water and dry it.
Drop out the soapy water from the sink or bowl, and refill it with hot water.
Now drop your jacket into this clean water and press or squeeze it softly to remove any remaining absorbed detergent from the apparel.
Now take off your jacket from the washing tub, and lay it on a flat rack or on a dry cloth. Safe it from direct sunlight. Use the chemistry law, the larger the surface area, the faster the evaporation does.
Avoid hanging the jacket, as it can damage the fabric or lining.
It may take a few hours or a day for the jacket to dry completely depending on the humidity and temperature of the area.
How should you air dry your Honda leather Jacket
After the rinsing and drying, now take a look at how to dry your jacket completely. Hang up the jacket in a hanger in this way air can freely circulate through the entire jacket. It helps it to dry fast. Don't use a heater or dryer, it will affect the leather of your motorbike apparel.
Condition your Honda Racing Jacket after cleaning
Now our motorbike apparel is washed, rinsed, and dried. Now it's time to put some shine on it. And for this we use conditioners. Many conditioners used for this purpose like leather honey or mink oil. These conditioners not only restore your jacket but also protect it from cracking and fading in the future. For conditioning, put a small amount of liquid on a clean piece of cloth and then gently rub it into the jacket surface respectively.
Additional Tips and Precautions Honda riding jacket
To maintain the quality and appearance of your Honda motorcycle jacket, here are some additional tips and precautions to keep in mind:
Do not use fabric softener, as it can clog the pores or reduce the breathability of the fabric.
Do not dry clean or machine wash your Honda motorcycle jacket, as it can damage the fabric, seams, or zippers.
Do not iron or press your Honda motorcycle jacket, as it can melt or distort the fabric or lining.
Store your Honda motorcycle jacket in a cool, dry, and well-ventilated place,
As you rinse, make sure to remove all the soap residue from the jacket, especially in the areas that are prone to excessive sweating. This is because leftover soap can trap bacteria and dirt, which will make your jacket smell bad and ruin its appearance.
Final Words
I hope this blog helps you to learn thoroughly about the cleaning of any motorbike apparel rather it is a Honda motorcycle jacket, Suzuki racing suit or Ducati leather riding jacket, or any other brand. If I simply summarize this blog into a few words then it is all about saving your healthy investment. So that you can take advantage of your luxury apparel until you have a soul inside your body. Take care of your Honda leather racing jacket and do its proper maintenance, clean it as I figured. Hopefully, your motorbike apparel will never leave you as long as you live.