How to customize leather jacket – Complete Fashion Guide
How to customize leather jacket
The leather jacket mens are a very famous kind of apparel among people and it never goes out of fashion from its introduction to now. The first fashioned black moto leather jacket was introduced in 1928, by the American extraordinarily talented maker Schott. It was the first time that people use a zipper on the jacket. Soon that outfit got many demands in the USA and began to use in the movies also.
With the growth of the jacket fashion the customization of these jackets also took place in the market. As a result, many other designs were also introduced by many companies. The leather jackets for men were started customized as per the people's demands. Many people like to have their own designed apparel, some additional cuts, personalized leather type or their names on that, and many more other features. Women indeed do more negotiation than men especially when we talk about their clothes. So, the women were also demanding customized ladies fitted leather jacket.
How to Customize Men Leather Jacket
Most the men like only some minor customizations. It also depends on the place where you are going, for example to a casual party, to a singing concert, to college/university, or casual friends meet up. These are the three most demanded customizations that men want on its genuine leather jacket for men.
Printing
Some additional printings like the wearer's name or any famous quotes are very demanding customization. Moreover, men also demand their ideal personality name on the jacket if a person likes football so he can also have the name football famous personality like Lionel Messi and Ronaldo, etc.
The stickers are also widly avaible in the market you can add them on your outfit. It will looks like a printiing if you dont know how to print your jacket. Moreover, the cutted sahpes paepr are also availe in the market you can use them for printing. Buy one of them paper which thing you want to print on your outfit, place it to the outfit, and now simply fill the blank area with your desied colors.  This is the most easy methord to print your favrote leather outfit.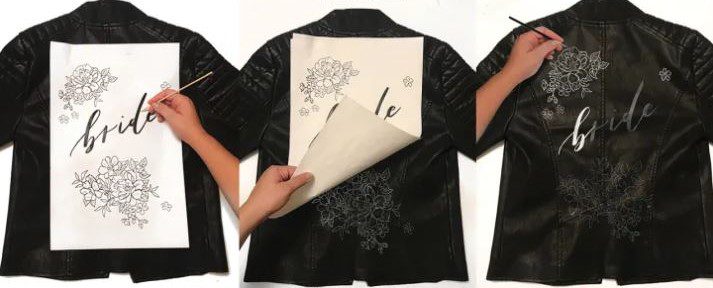 Patches
In some of the customization, men like to have some additional patches like the top gun jacket maverick have. These patches could be the same as the US air-forced jacket has on its sleeves and front. Mostly these patches are embroied and you can atteched them to your jacket by sitiching. You can alos place stikers on the jacket but these are noy recommend. becasue, these are the sticky things which can harm the leather.

Color
Black and brown are the most popular colors that are being used in jackets. But some people like to have a different color to look unique at the gathering. So, the vintage brown leather jcket is recommended outerwear as its color is very unique and classic.
How to customize women leather jacket
Women's customizations are not just limited to customizations that men do. Women often do many customizations which include studs, sequin, printing, stones, and some other artwork. For your brief knowledge, we have described a method to customize your women black biker jacket.
Material uses in customizing the jacket
Fabric glue
Sequins Roll/how much do you want to add
Spool of Studs
Scissors
Customizing Process
Follow the steps below for customization.
First of all, you need to measure the points where you want to do customizing. After that cut the studs according to your measurements.
Place some glue under these cut studs and make to glue every stud for a better result.
Place the studs on the jacket it is recommended to place them on the sleeves and front.
Cut the sequin as per your design and glue it.
Place the sequin on the jacket's back or where you want.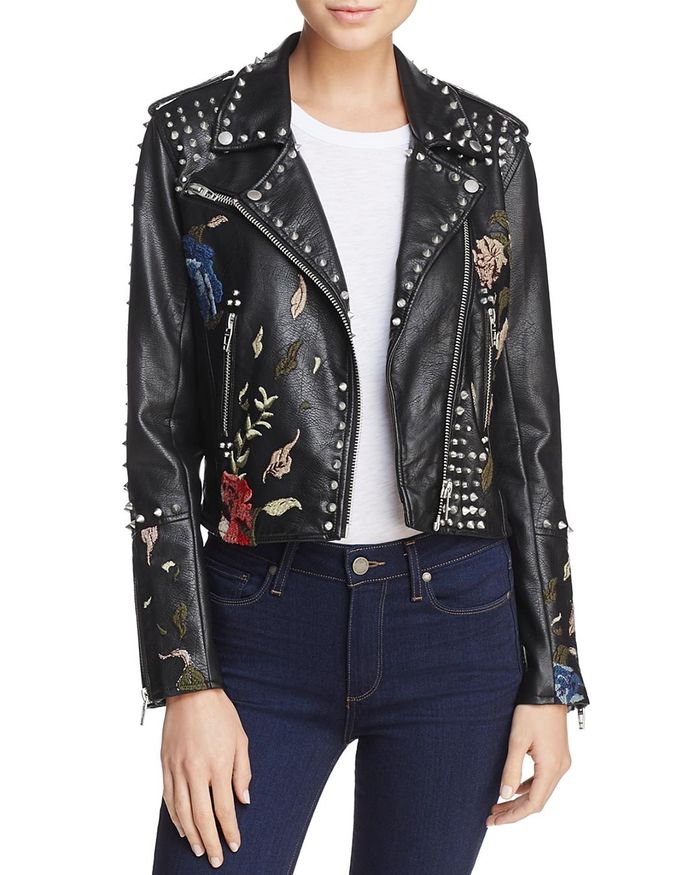 How to pack faux leather jacket
If you are willing to go outside for some days on your holiday-like trip you need to pack your accessories which include your green leather jacket outfit. Moreover, if you want to ship a black leather blazer to any as a gift or for some other reason you need to learn the method of packing a leather or faux leather jacket. The packing of these leather outfits is not the same as the other garments, these garments require some extra care. These are the following steps that will help you for packing your leather garments without any damage.
Use a garment bag
The garments bags are good to pack leather appeals as they have water resistance ability which is considered good for packing a jacket. it also gives protection to the jacket from the dust and moisture in the air which could the reason for spills or leaks. One more thing to do here is put some acid-free tissue paper around the arms of your jacket to protect its arms from collapsing in on itself.
Use a hanger
A hanger can help you a lot in packing. It will keep your dark blue quilted jacket for men in its original shape and also protect it from getting creased. There is one thing to keep in your mind use a strong hanger that will hold the jacket's weight because leather outfits are heavy as compared to other outerwear. Wrap the jacket with a piece of cloth from packing paper. A hanger will take up some extra space but it will protect the jacket from any damage.
Pack it on top of the bag
When you don't have enough space for a hanger or when you are traveling shortly so, it may be possible that you just can carry your all stuff in a suitcase. In this situation, you can pack your jacket by putting it on top of the suitcase. Putting your jacket at the last can save it from much damage and keep its life as long as possible.